Description
AirCare carries the full line of products from Fire Hooks Unlimited. Here are a few of their more popular and newer products.
See their Product Catalog here.
Here are a few of the Fire Hooks Unlimited products we carry:
Maximus Tools
MAXXIMUS Forcible Entry Halligan Bar
The MAXXIMUS is the next generation of Forcible Entry Bars. It is the ultimate Halligan Bar and is lighter than the Pro-Bar. The Maxximus has a unique T.P.R. grip for a sturdy handle while using this tool. Other features include a depth gauges on the Adz and the Fork eliminate guess work.
---
ESKA FABRIC FIREFIGHTING GLOVE
The ESKA "Fabric" firefighting glove is a lightweight, fire resistant Kermel material that does not retain water and dries faster than leather. The ESKA gloves will not harden or shrink after being exposed to water, direct flame or chemicals. Kevlar/Silver blend liner provides heat and cut protection and is also anti-odor, anti-fungal, anti-static and thrmo dynamic. CROSSTECH membrane blocks bloodborne pathogens, fluids, chemicals and water. 3-dimentional glove pattern follows the natural curve of your hand to provide greather dexterity, fingertip tactility and overall comfort.
---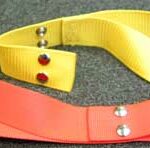 LITE LOOP
The carry strap for any handled flashlight. Loops around the handle with heavy duty nylon and attches to any belt. Specifically made for your SCBA since the loop can be attached and removed after your SCBA is buckled using two heavy duty snaps. We are using two colors (Yellow and Orange) for lumination in smoke or poor light situations. The Orange matches the New FIRE VULCAN by Streamlight.
An emergency release can be made if hung up by pulling a specifically designed tab – Use of this tab can also be used if you wish to use the light in a portable state in your hand.
---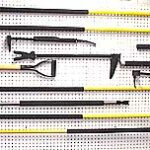 OUR HOOKS ARE CONSTRUCTED TO WITHSTAND THE RIGORS OF "THE JOB"
– We offer our super strength solid fiberglass pole. End bent or broken poles forever.
– Stainless steel wear sleeves are drawn over the fiberglass pole at each end of the hook for increased strength and durability.
– Celtex grip gives the user a positive no-slip shock absorbing grip.
– We weld all component parts, head and shut-off to stainless steel sleeves.
– Electrically non-conductive.
---
MOUNTING BRACKETS
Wide range of mounting brackets including but not limited to fuel and oil containers, halligan bars, hooks, pike poles, tools, crow bars, fire extinguishers, and much more.
---
Hydra Ram
The HYDRA RAM is truly a one person operation, * Weight: 12 lbs, The FIRST and ONLY one piece integrated hydraulic forcible entry tool. Maximum thrust opening is 4″
During field testing and evaluation, Ladder Company #4 of FDNY forced 109 doors during search operations at the World Trade Center after the bombing in 1993.
---