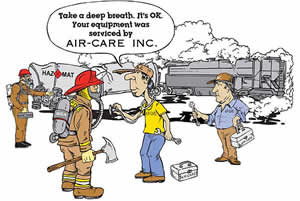 ACI Fire & Safety is a firefighter owned and operated company specializing in the sales and service of equipment utilized in the fire and safety industries.
We started as a company devoted to Respiratory Protection needs, and offer a full line of MSA (Mine Safety Appliance) Fire Service Products, including Firehawk Breathing Apparatus, Thermal Imaging Cameras, Cairns Fire Helmets, Atmospheric Monitors, and Fall Protection Equipment. We also sell SCBA compressors, fill stations, and storage systems.
Our breathing air services are second to none. We specialize in mobile on-site SCBA Flow Testing & Repair. We provide quantitative and qualitative respirator fit testing to OSHA standards, and offer SCBA compressor service and maintenance. Our hydro test facility is capable of testing cylinders up to 6000 psi.
We are proud to have expanded our sales and service offerings, while still providing excellent service to our customers: public and private entities, volunteer and paid organizations, and anyone who walks in the door. Please browse our pages to see all of the product lines we offer and don't hesitate to contact us for your sales and service needs.