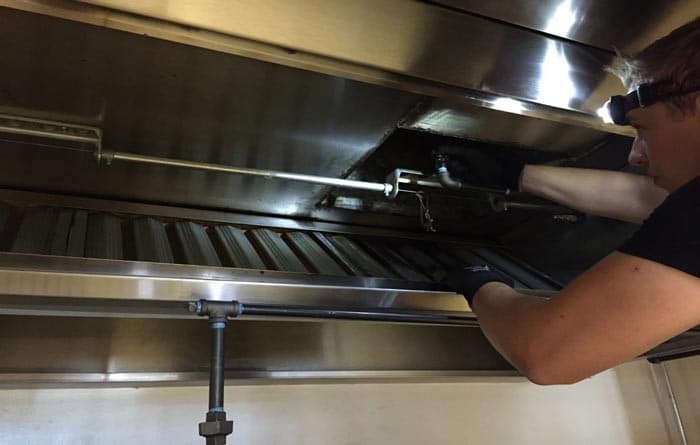 Your Full-Service, One-Stop Shop for Kitchen Fire Suppression Inspection & Testing
Of all the areas in your business, the commercial kitchen has the highest fire risk. Flammable oil and grease, high cooking temperatures, and the hectic nature of a commercial kitchen increase the chance of fire substantially compared to other rooms in your building.
Are you in the habit of regularly testing and inspecting your kitchen's fire suppression system? Don't gamble with the safety of your building and the people in it – schedule kitchen fire suppression testing and inspections today!
Kitchen Hood Fire Suppression Testing & Inspection Services
Cooking has always been somewhat hazardous, but today's high-efficiency stoves and grills reach higher temperatures than ever, and healthier vegetable oils become much hotter and retain their heat longer than animal-based oils. To protect against these hazards, every commercial kitchen should be outfitted with a fire suppression system.
While professional installation is a key component of kitchen fire safety, it's only the beginning. Then, you must schedule tests and inspections from a fire protection company to remain code compliant and ensure every system component performs as expected in a fire emergency.
Here's what our kitchen fire suppression testing and inspections entail:
Visually inspect the conduit and nozzle locations.
Check link line and detector positions.
Cut a terminal test link to inspect the fire system's automatic actuation.
Test the manual pull station.
Verify the functionality of electric and gas shut offs.
Replace center link housings and fusible links.
Verify the gauge levels on pressurized tanks.
Inspect the inside of non-pressurized tanks for corrosion.
Record and verify the hydro test date on the regulator and all cylinders.
Replace system cartridges when required.
Remove and clean nozzles.
Test all electrical interlocks.
Verify the tightness of piping and copper tubing.
Record and report any apparent deficiencies to the customer.