Description
Here are a few of the Cool Shirt products we offer. Please visit coolshirt.com for a full list of available products and accessories.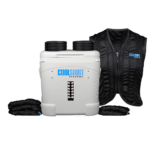 STANDARD REHAB SYSTEM
The Standard Rehab System is specially designed for firefighters in rehab. The Aqua vest is simple to use and will safely lower the core body temperature of the firefighter who is suffering from heat stress.
Our systems can rehabilitate up to six firefighters from a single cooler.
---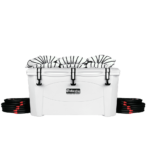 6 PERSON REHAB STATION COMPLETE
The COOLSHIRT 6 Person Rehab Station is built around a 75 quart heavy-duty cooler to ensure that you stay cooler for a longer period of time. The cooler incorporates a water port panel that allows for up to 6 connections for enhanced efficiency. Each connection uses our dry-break safety pull release system so that the lines will pull loose when 21lbs of force is applied. This is a great safety feature in the event that someone forgets to disconnect from the system. The system also includes 6 Active Aqua Vests (sizes S-XXXL) and six 12′ safety pull hoses.
---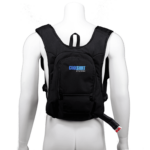 MOBILECOOL BP2
he MobileCool BP2 System keeps you consistently cool and safe especially in a hot environment.
Powered by 7.4V, it is used as a self contained portable cooling system for the employee providing the portability needed to continue normal work functions without being tied down to a power outlet.
---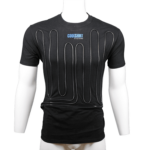 BLACK COOL WATER SHIRT
The COOLSHIRT® contains approximately 50 feet of medical grade capillary tubing securely stitched on the front and back of the shirt. It is connected to a compact cooling unit via insulated hose
(sold separately) with quick, dry disconnects. The cooling unit contains ice, water and an internal pump that supplies cool water to COOLSHIRT® as it covers up to 40% of the body.
---