Junkyard Dog XTEND/ZSTRUT Rescue Struts
Junkyard Dog Industries XTEND Style Rescue Struts are an economical and proven solution for your stabilization challenges. XTEND Style Rescue Struts uses heavy-duty, top-quality, stainless-steel aircraft quality Locking Adjustment "T" Pins for quick and secure deployment. These simple, Self-Contained, lightweight, and easy to rescue struts work on the "tension buttress" principle for quick and secure deployment. They can allow even a single firefighter to stabilize a vehicle faster, better, and often far more easily than a team of rescuers with a truck full of cribbing and connectors.
Junkyard Dog Industries Vehicle Rescue Struts have proven, over and over, those in-vehicle rescue situations when time is critical, less equipment does do more.
Description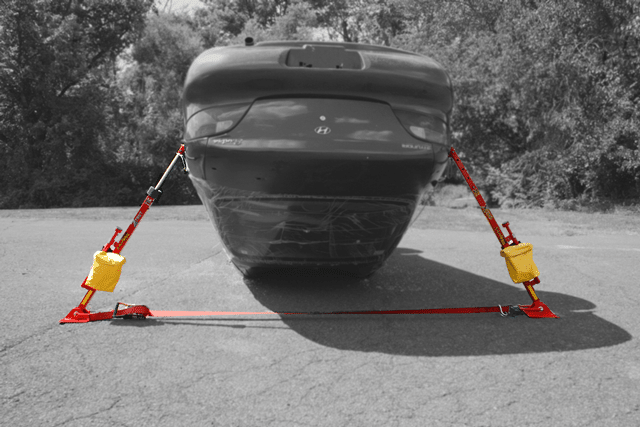 XTEND Features:
Triangulate with One Ratchet Strap
Self Contained for Easy Deployment
Polymer Coated Base for Better Grip
Base and Clevis Operate Separately so Base Will Stay Flat on Ground
Large Clevis Allows to Pass Through the Ratchet Strap Head for Single Strap Triangulation
Comes with Accessory Bag Attached to Strut
Simpson Ratchet and Axle Strap Rated at 1,300 lbs.
Available in SMALL, MEDIUM, and LARGE
Junkyard Dog Zstruct Style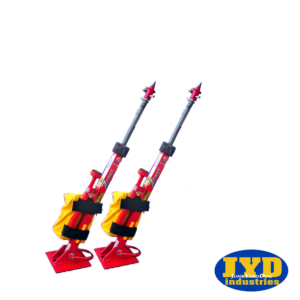 Using Patented ZipNut® Technology, JYD Industries' ZSTRUTs are setting industry standards. The ZSTRUT is engineered to extend by simply pulling up the extension rod to the desired height. Eliminating the need for locking pins allows for quicker deployment and adjustability with the ability to follow lifts. ZStrut Zipnut® technology makes adjustments during lifts simple — the collar rotates on the threaded rod to tighten the fit. To retract just pull the collar up.