Description
Firefighter Incident & Accountability Systems
A well designed and implemented firefighter accountability system protects you and your department. Vital information is quickly obtained from our custom firefighter accountability tags. Information on how many firefighters you have on scene, their level of qualification, what apparatus they arrived on, and even medical alerts and allergies are all accessible at a glance through our incident command systems. These fire department accountability systems are available in a variety of customizable options to fit your department's unique needs.
Used in conjunction, incident command systems and firefighter accountability tags allow the fire incident commander to efficiently track all of the fireground tactics and crews working at an emergency scene. Our command boards are also available in a firefighter passport accountability option. We have the quality firefighter tags, plates, decals, and command boards that your department needs in order maintain the highest accountability standards.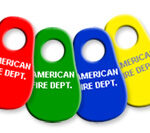 Accountability Tags
Accountability Tags are issued to each firefighter. Then the firefighters are trained that they must "tag in" (give his tag to the Safety or Sector Officer) before entering the structure. Immediately upon exiting the structure the firefighter must collect his tag so the Officer knows he returned safely. Many Departments use a two tag system where they also "tag in" to the truck. This is useful to the Incident Commander when evaluating the available resources.
---
Incident Command Boards
American Trade Mark Co. prints all of there Command boards in house so they can easily change wording or terminology or do a full custom layout to best suit your SOG's. If you have a tactical worksheet you already use and want to incorporate it into one of our command boards, they can do that for you.
---
Equipment Marker Decals
Equipment marker decals, custom decals, and reflect helmet tetrahedrons.
---
Car Plates
Our custom printed car plates are durable .032" Aluminum with white Scotchlite™ reflective surface. All colors are available, multi-color no extra charge. "Standard Layout" has holes on the top and bottom that allow for mounting either above or below the license plate. Also available with: "Top Holes" where the holes stick out the top for mounting below the license plate. "Bottom Holes" where the holes stick out the bottom for mounting above the license plate. Complete art and design service available as well as custom sizes.
---
Custom Fire Department Plaques
At American Trade Mark, we can create any custom fire department plaque you have in mind. Whether you have a Chief celebrating 50 plus years of service, a bowling league champion, or a rookie who earned top responder of the year, our firefighter plaques can be customized for any occasion.
---